Everyone is talking about AI but how can "artificial intelligence" be used for the common good and benefit social sector organizations? And how can we even approach the process of identifying relevant opportunities of AI – and also reflect possible risks especially for marginalized people? Aam Digital's co-founder Sebastian has worked on these questions as an expert for Bertelsmann Foundation's "reframeTech" program over the last 6 weeks.
Design Thinking process to identify pain points & solutions
In order to develop solutions that actually solve a real problem, the design (i.e. the research and idea generation) has to happen with the people who should use a solution in the future. This is essential when extending a platform like ours at Aam Digital, when developing a completely new solution – and also when introducing an existing tool newly in your organization.
"Design Thinking" is a concept that provides useful guidelines and structures for such a process. Our AI Tech Exploration built upon this methodology of the "double diamond": exploring pain points broadly and then re-focusing on the highest priority, for which we then outlined a possible AI solution. The two diamonds – the problem space and the solution space – helped us focus on understanding the ground realities first instead of designing tech solutions just for technology's sake.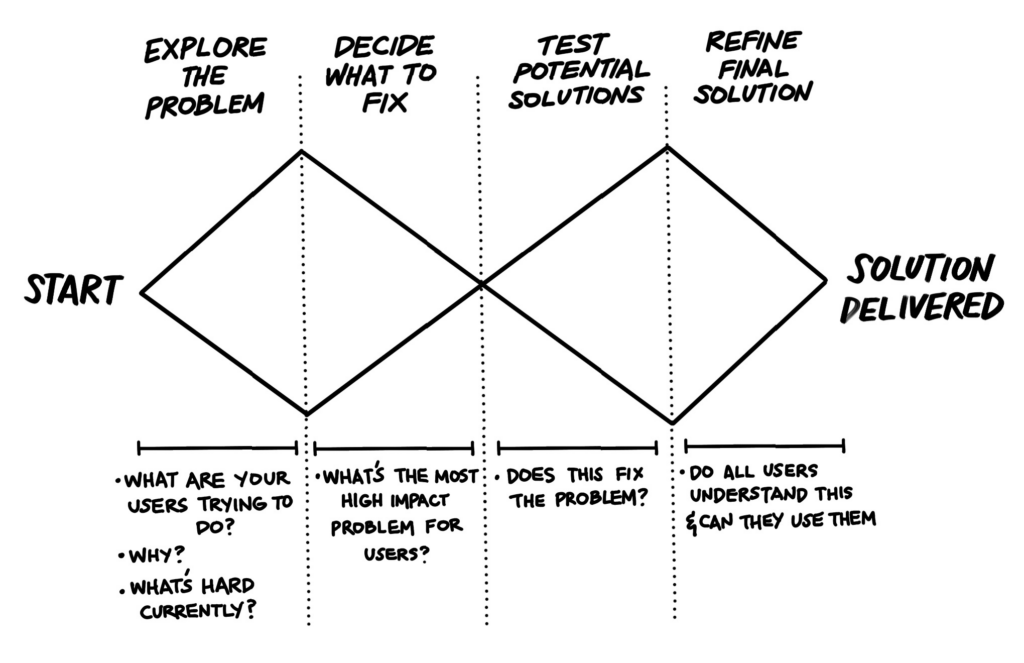 In particular, we spent a lot of time talking to the team of our social sector partner, Ludwigsmühle. With video interviews and a week on site observing (or "shadowing") counselors and therapists, we collected practical views and insights about the challenges of daily work. And we documented this on a virtual white board using mind maps and structures like a Service Blueprint.
Key for us was to interact with all the people that would be affected by a new technical system – both staff members and patients. And understand their routines as well as their emotions, concerns and hopes.
Insights from the ground at a social organization
My key takeaways from the discussions in the field:
Very motivated, smart people work at this NGO (and in the social sector in general). It is inspiring to see their commitment. And good processes and data already exist (although I have seen other NGOs struggle around this also). But making data useful beyond an annual report is not that easy. How can we leverage this more?
Everybody at the organization was open with us and helped the exploration process. But a number of social workers were also skeptical whether AI can really play any role in the social sector because personal relationships are at the core of their work. Or at least people didn't have any idea how to start thinking about technology that could help them. When I shared a specific story – how Aam Digital's system as a virtual assistant highlights absent students and helps social workers to plan targeted interventions – the mood changed a bit. The concrete example seems to make the big ideas understandable. And it shows that AI is probably most promising as a tool to support social workers rather than replace them.
There is a lot of potential of AI for the common good
The specific AI solution we outlined for our partners at Ludwigsmühle, a network of addiction therapy centers and clinics, was a therapy decision support system. Making the large amount of data they already have more usable for the therapist team. So that they have an additional, data-driven input for their decisions about individual patient needs and the most fitting therapy approach.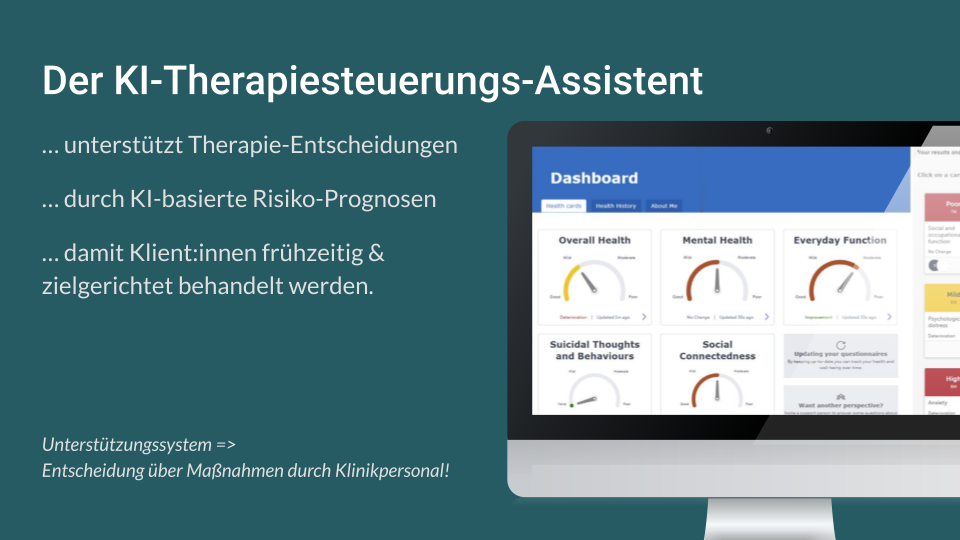 But the tech exploration, overall run by teams at four different social sector organizations, yielded a number of other interesting concepts as well. A platform matching people with disabilities to custom job options; A self-help group finder tailored to your situation; The automated processing of bills. Or an AI chatbot that will finally make that super complex form to apply for government benefits easy to read and submit.
The social sector organizations we worked with showed huge interest and openness for AI solutions. And we had a really positive, dynamic collaboration. There certainly is potential for the common good in this field. Now it's "just" a question of putting it into practice.
---
Additional information:
(unfortunately only in German; but talking about AI – Google Translate and similar tools have become really good at translating blog articles and whole websites)